2 March 2020, 19:00 at Artús, Budapest.
It is happening (between you and me).
Koncept och text: Sybrig Dokter
Projicering och ljud: Kristóf Szabó
Foto: Nadja Voorham.
Created during residencies at AQB Budapest, sponsored by ProProgressione – Budapest, Açık Stüdyo, Izmir, Weld, Stockholm and the Artists Grants Committee International program.
Supported by the Artists Grant Committee and the Artists Grant Committee's International Dance Program.
12+13+14 juni 2018
kl 19:00
It is happening (between you and me) / Sybrig Dokter (SE)
Koncept och text: Sybrig Dokter
Projicering och ljud: Kristóf Szabó
Foto: Nadja Voorham.
Skapad under residens på  AQB Budapest med stöd av ProProgressione (Budapest), Açık Stüdyo (Izmir), Weld (Stockholm) och Konstnärsnämndens internationella dansprogram (Stockholm).
Med stöd av Konstnärsnämnden.
Tickets: book.weld.se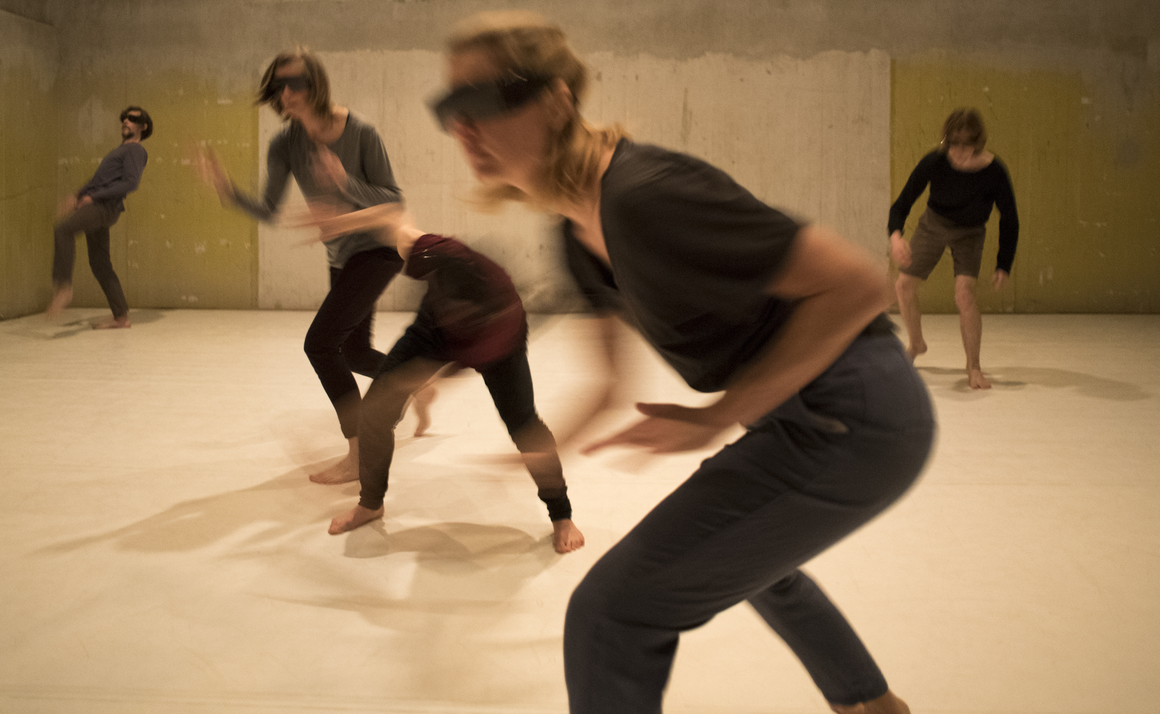 Weld Company + Matthias Sperling
12 November 2017, 18:00
Weld, Stockholm
Soft Power Generator II
In our one-week research project, me and Weld Company will take as a starting point a practice that I have been working with, which I call 'looping'. Rhythmically repeating a single movement while also gradually reshaping it in barely perceptible increments, the practice works on sustaining a state between repetition and difference. Drawing on interests including Deborah Hay, Aby Warburg, cognitive science and hypnosis, this practice considers the possibility of performing choreography as a kind of conjuring – seeking knowledge of the unknown through movement./ Matthias Sperling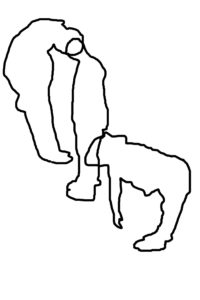 9 September 2016 kl 23.55 – 08.00
Falling
Sybrig Dokter, Robin Dingemans, Nadja Voorham
Jag faller i sömn. Jag faller i sömnen och jag faller där genom sömnens kraft. På samma sätt som jag faller av utmattning. På samma sätt som jag faller av leda. Som jag faller sönder i ett ögonblick av nöd. Som jag faller, generellt.
/ Jean-Luc Nancy (The fall of sleep)
Weld 
Norrtullsgatan 7
Den 9 september håller Weld nattöppet för en visning av det arbete som Sybrig Dokter haft residens med på Weld under februari och september 2016.
Nadja Voorham, Robin Dingemans och Sybrig Dokter fortsätter nu med balansgången på gränssnittet av att vara medveten och vara i sömn; ett  kontinuerligt fallande i svarta rum; passiva, hjälplösa, i glappet mellan vakande och sovande. Prekära kroppar som har förlorat möjligheten att agera; som delar rummet och blir påverkade av varandra utan motstånd.
Nadja Voorham, Robin Dingemans och Sybrig Dokter kommer sova, mötas i drömmarna och gå i vaken vila från midnatt till morgon.
En första version av Falling visades på Weld den 28 februari
Framförd av: Robin Dingemans, Nadja Voorham, Sybrig Dokter.
Ljusdesign av: Ronald Salas
Projektet initierades av Sybrig Dokter
nadjavoorham.com
robindingemans.net
sybrigdokter.com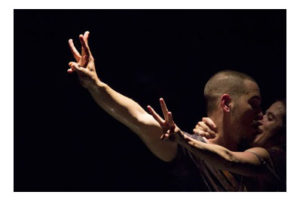 Performing in Three ways of mastering a kiss or a 25 minute kiss at your neck, by Aitana Cordera Vico.
15 July 2016 at Notafe, Estonia.
THREE WAYS TO MASTER A KISS or a twenty five minute kiss at your neck is the result of a research about kisses, kissing and group agreements and dynamics.It also investigates the sense of taste and the borders of tasting. Taste as mouths, oral and saliva. Tasting as how we experience and evaluate flavors, how we like or dislike things, how we judge and make selections.
With:
Alvaro Frutos, Pablo Herranz (ESP), Sybrig Dokter (SWE/NL), Micheál Rowsome (IRE), Mira Kautto, Oliver Whitehead (FIN), Joanna Kalm, Kadri Noormets, Andrea Zavala Folache (NL), Oneka von Schrader (AUS/NL)
Lights: Triin Suvi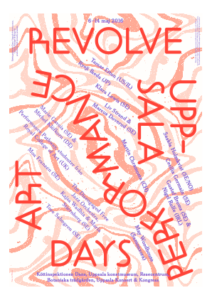 Sybrig Dokter and Elisabeth Poignant will perform Transference
18.00–21.00 Uppsala Konstmuseum during Revolve Festival.
by Saskia Holmkvist (SE/NO)
The word "transference" will mark the room with it´s different interpreters in a performative act of transference via a computer to a projection that wants to become body. The challenge lays in how the choice is made to register architecture, place and time along with affective traces and flickering perceptions of the non-fixity of actions.
28+29 april kl 19.00
Barnhusgatan 14

När Weld i vår fyller 10 år firar vi med premiären av Phoenix, skapad av koreografen Rebecka Stillman tillsammans med- och för Weld Company. Med Phoenix expanderas undersökningen kring danskompaniets vara och format till en stor scen.
På scen: Caroline Byström, Robin Dingemans, Sybrig Dokter, Marie Fahlin, Noah Hellwig, Elias Girod, Disa Krosness, Robert Malmborg, Sandra Lolax, Per Sacklén, Hanna Strandberg, Andrea Svensson, Anna Westberg.
Ljusdesign och rum: Chrisander Brun
Kostym: Erik Annerborn
Weld Company har sedan starten 2013 bjudit in svenska och internationella koreografer från olika generationer till att skapa koreografiska verk under devisen "No Talking No Props".
Verket Phoenix är en koreografi av Rebecka Stillman tillsammans med de kompanimedlemmar som ackumulerats sedan start och är en fortsättning av det arbete Rebecka utvecklat tillsammans med kompaniet under åren.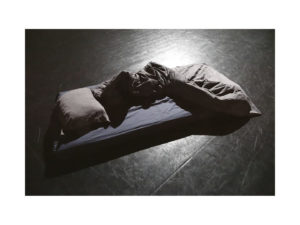 WELD                    
28 February 2016, 00.00-08.00
Sybrig Dokter, Robin Dingemans, Nadja Voorham
Falling
I'm falling asleep. I'm falling into sleep and I'm falling there by the power of sleep. Just as I fall asleep from exhaustion. Just as I drop from boredom. As I fall on hard times. As I fall, in general. Sleep sums up all these falls, it gathers them together.
 Jean-Luc Nancy (The fall of sleep)
During the night from Saturday 27 – Sunday 28th February between 00.00-08.00.
Nadja Voorham, Robin Dingemans and Sybrig Dokter will sleep, meet while dreaming and  move in wakefulness throughout the night.
We will sleep for you. We will dream. Dreaming as a place place where one is alone and at the same time joining millions of other people sleeping or dreaming in widely different situations. 
We will try to stay lucid in that world which is created by our minds without any sensory input from the world around us. When touching someone or something in a dream there is no way to  verify if that person or thing is really there. 
It is an unstable world where things change with every glance and where one can look 10 times at a written page and see something different all 10 times.
The project is initiated by Sybrig Dokter and developed by Robin Dingemans, Nadja Voorham and Sybrig Dokter
during a residency at Weld.
Light design by Ronald Salas
nadjavoorham.com
robindingemans.net
at 720stunden
19. September 2015 21:00 – 22:30
Performance
There is nothing in front of me. There is nothing underneath my feet. There is nothing to my left. There is nothing here. There is nothing beyond the door, nothing the cat is running away with. There is nothing buried underneath the tree. There is nothing bruised, nothing growing in my kidneys. There is nothing funny about a gold fish. There is nothing in the house, nothing in the Milky Way. There is nothing left to see. Funny.
Mit Peter Stamer, Sybrig Dokter und Andreas Müller
Bühne Hebelhalle
Hebelstraße
Heidelberg
Who speaks, who does not and how does that give meaning to what we are listening to?
Archaeological Bodies examined individual and collective structures in relation to identity, while investigating the way we ask questions and the answers they can produce. Subsequently, interviews were conducted with people who moved to Lviv recently or longer ago.
Archaeological Bodies is a project directed at the relations between different groups in Ukraine. It took place during three sessions in 2014 and 2015.
Directed by Sybrig Dokter and Nadja Voorham
Production: Kateryna Radchenko, Eugene Chervony
Archaeological Bodies is part of the project Waiting in the Margins by Lava-Dansproduktion which was created in Georgia and is now touring Ukraine.
Co-produced by Art Travel.
Financial support by the Swedish Postcode Lottery and the Swedish Institute.
Presentation/installation at Gallery of Cultural Center Temerin
23. July 20h 2015
Supported by Creative Force program of Swedish Institute.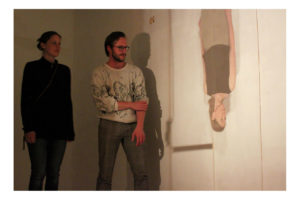 Performing 'I believe (something is happening)' 
at Notafe, Estonia,  5 -11 July 2015
Supported by Artists Grant Committee's International Dance Program.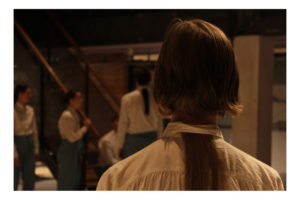 Sybrig Dokter erhåller Welds hedersutmärkelse Januari 2015
Hur ser arbetsförhållandena ut för en frilansare inom dans och koreografiområdet idag? Hur skapar man en trygg tillvaro? Många väljer att vidareutbilda sig då det blir ett för krävande och ovisst arbete att producera sig själv och sin konst i ett ekonomiskt http://premier-pharmacy.com hårt pressat fält. Det finns alltså mindre tid till att vara i nuet, reflektera, fantisera och drömma. Hur kan vi återta denna plats?
Weld vill uppmärksamma dansaren och koreografen Sybrig Dokter för att hon håller sig kvar i fältet och som konstnär nyfiket letar sig vidare. Vi vill härmed hedra henne och hennes arbete.
Sybrig är en förebild för kollegor genom att insistera på den fysiska praktiken, den samtida diskursen och för att hon generöst delar med sig av sina erfarenheter. Hon har med skärpa, integritet och värme bidragit till Welds verksamhet och Sveriges dansscen och har under lång tid utforskat och förkroppsligat både sina egna och andras konstnärliga visioner.
Sybrig har också ägnat stort engagemang i projekt som ägt rum utanför det eurocentriska, bland annat i Moldavien, Ukraina och Vitryssland. Hon har under åren varit aktuell på Weld genom en rad olika konstprojekt, nu som medlem i Weld Company.
ARCHAEOLOGICAL BODIES
Kulturanova (Novi Sad, Serbia) and Lava-Dansproduktion (Stockholm, Sweden) are collaborating in this exciting project that is targeting the position of the Hungarian minorities in the province of Vojvodina in relation to the Serbian majority and is aiming at young people in this region. At the core of the project are capacity building workshops in the field of movement, video and text production.
Interviews with youngsters will be held on the subject of the situation of today and form an archive of ideas and opinions.
The interviews that will be done by the participants of the project will be filmed with simple handheld equipment like mobile phones. The interviews will be a starting point for discussion during the workshops and will lead to the production of texts as a critical commentary on the issues we are addressing as well as creative material to be used in the final event.
At the end of the last session in September 2015 we will create and an installation/exhibition with movement, video and text material for a wider audience.The project will take place in 4 stages during 18 months. The artistic project will be directed by Sybrig Dokter and Nadja Voorham. We are looking at the physicality of living in a conflict area or situation and how the lived situation manifests in the body and physical strategies while navigating the public space; the body as an archaeological site. The project is supported by the Creative Force program of the Swedish Institute.
The next session will be in the second half of september 2014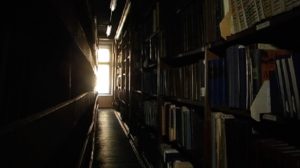 CIRCULATION I-IV
FYRA VIDEOVERK AV SERGIY PETLYUK, INGRID COGNE, VLOD KAUFMAN & SYBRIG DOKTER
DANSENS HUS, FOAJÉN
visas: 4-8 dec, under festivalcentrets öppettider
Ett av Ukrainas mest prestigefyllda universitet-och ett av östeuropas äldsta blev under en vecka inspelningsplats för filmverken Circulation I-IV. Fyra konstnärer intog Vetenskapsbiblioteket vid Ivan Franko National University of Lviv. Här leker de med bibliotekets innersta struktur, och utmanar subtilt besökarnas uppfattningar om platsen. En upplevelse som rör sig mellan fiktion och verklighet.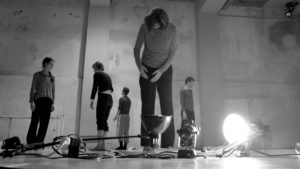 6 december kl. 21.00 (Urpremiär )
Sediments of an Ordinary Mind
Weld Company / Koreografi: Michael Kliën
Michael Kliën besöker Weld Company med sin koreografi Sediments of an Ordinary Mind (2004) – reinkarnerad i sin samtida form och utvecklad särskilt för- och tillsammans med kompaniet. Liksom övriga av höstens gästkoreografer har Michael Kliën fått uppdraget att skapa en koreografi för Weld Company med restriktionerna No talking-No props.
Weld Norrtullsgatan 7 (T-bana Odenplan)
Weld Company 2013 är: Robin Dingemans, Kajsa Sandström, Sandra Lolax, Sybrig Dokter, Noah Hellwig och Marie Fahlin.
Ljusdesign: Anton Andersson
Kostym: Erik Annerborn
Läs mer om Weld Company på bloggen: company.weld.se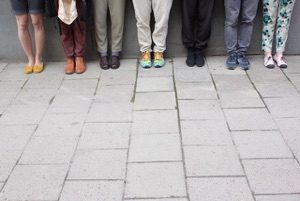 22 oktober: Weld Company + Rebecka Stillman
Den 22 oktober har det nystartade kompaniet Weld Company premiär. Först ut av höstens inbjudna koreografer är Rebecka Stillman som fått uppdraget att skapa en koreografi för kompaniet med restriktionerna No talking-No props.
Weld Company är ett förslag till hur man kan återupptäcka och omvärdera idén om hur ett danskompani fungerar. Weld Company uppdaterar kompaniformen och utgår ifrån ett kollektivt arbete som förs genom en av Weld tydligt given struktur. Förutom att samarbeta med gästkoreografer kommer kompaniet göra egna produktioner, curatera händelser och undersöka det svenska dansarkivet. Kompaniets medlemmar bidrar med- och är delaktiga i att välja innehåll. Huvudfokus ligger på det utrymme som friläggs för att praktisera konstformen. Att bli den dansande kroppen, det dansande kollektivet och att genom detta ställa frågor kring dans och koreografi idag.
Inom ramen för Weld Company finns ett samarbete med ljusdesigner Anton Andersson och designer Erik Annerborn vilka har fått uppgiften att skapa varsin kollektion. En uppsättning på tre olika variabler av ljus respektive kostym som inbjudna koreografer och kompaniet kan välja ur. Medlemmar i Weld Company 2013 är: Robin Dingemans, Kajsa Sandström, Sandra Lolax, Sybrig Dokter, Noah Hellwig och Marie Fahlin.
Koreografi: Rebecka Stillman
Dans: Robin Dingemans, Kajsa Sandström, Sandra Lolax, Sybrig Dokter, Noah Hellwig och Marie Fahlin.

Ljus: Anton Andersson
Kostym: Erik Annerborn

WELD
FOR YOUR EYES ONLY
Performance
4+5+6 oktober Kl. 19.00 Koncept: Peter Stamer (DE)
Framförande: Sybrig Dokter (SE), Andreas Müller (DE), Peter Stamer (DE)
Dramaturgisk rådgivning: Christine Standfest (DE)
Ljusdesign: Andreas Harder (DE)
Ljustekniker: Ronald Hessman (SE)
Bokstavligen utan bilder försöker FOR YOUR EYES ONLY visa på hur världen, som med en sådan envishet omger oss, är skapad. Som ett språkspel som hämtar sitt material från det erfarna, det upptäckta, ur rester av nyligen skapade berättelser eller det mer exakt konstruerade. Vad som "ses" på scenen existerar enbart i vår fantasi – som representation i dess minsta beståndsdel.
Våren 2010 bjöd den frilansande dramaturgen, kuratorn, skribenten och scenkonstnären Peter Stamer (DE) in en grupp svenska konstnärer till sitt residens på Weld. Tillsammans utforskade de hur textfragment kan användas för att aktivera ett inre bildskapande, vår fantasi, vilket lade grunden till föreställningen FOR YOUR EYES ONLY. En av konstnärerna var Sybrig Dokter som Stamer skulle komma att inleda ett långvarigt arbete med. Nu återvänder Stamer till Weld under tre kvällar med FOR YOUR EYES ONLY som idag blivit en föreställning i två delar – Into Nothing och Unseen. Förutom Sybrig Dokter har han med sig dansaren Andreas Müller.
En produktion av Peter Stamer / GARAGE e.V. Medproducent: Tanzquartier Wien. Finansierat av Hauptstadtkulturfonds Berlin. Med stöd av Tanzfabrik Berlin, International Dance Programme Sweden, Weld Stockholm, Noore Tantsu Festival Viljandi
Coming up: 'I believe (something is happening)' june 2013 festival:display at Weld, Stockholm,
Koreografiska Konstitutet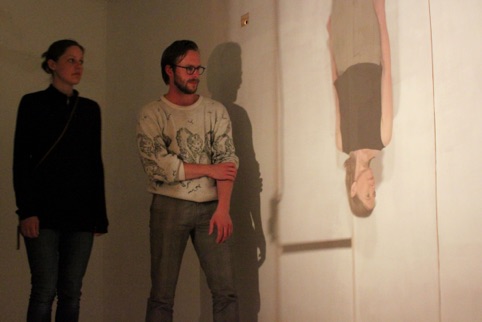 Coming up:
Participation in The Exhibited/De Utställda av Anna Ådahl 10-11 maj 2013 at Weld.